Kurrajong Public School, NSW, blitzed the competition in the 2006 Kurrajong Scarecrow Festival. Their beautiful display of 27 scarecrows won:
-- First prize in the Special Projects Category;
-- First prize in the Schools Category; and
-- The Margaret Garcia Cup for the Overall Winner of the Festival.
Scarecrows were created by six different classes, scarecrow artwork adorned the school windows and scarecrow poems by the children featured in the school newsletter.
Kindergarten
Miss Passlow and her class created a colourful scarecrow scene on the theme of Jack and the Beanstalk. Individual scarecrows representing Jack, Jack's Mum, the Old Woman and the Ogre were displayed against a hand-painted backdrop on a school roof top.
Year 1
Mrs Barwick and her class crafted three beautifully made scarecrows with very different personalities: 'Princess Diamond Kristie', 'Princess Jessica' and 'Bad Bart the Burglar'. Christie was elegantly attired in her evening jacket and handbag, graceful Jessica had an amazing face fashioned from an old broom, and Bad Bart struck a jaunty pose with his flowing black cloak.
Year 2
Students from Mrs Jones' Year 2 class created a graceful ballerina scarecrow called 'Mia' with an elegant gauzy hat. Mia's creators were Victoria, Jessica, Tilly, Kahlia, Jacinta and Eliza. Other Year 2 students built a swaggering Ned Kelly scarecrow and two other dashing scarecrow figures.
Year 3
Mrs McGowan and her class fashioned a towering scarecrow lady called 'Petal', with a vivid pink skirt, spiky silver foil hair, an imaginative face and a colourful bouquet of paper flowers. Petal struck an impressive pose at the school entrance.
Year 4
Students from Mrs Hooley's Year 4 class built six funny scarecrows that perched in trees and peeped over the fence at the front of the school. With cheeky grins and acrobatic poses, they made a colourful group.
Year 5
Students from Mr Gill's Year 5 class had been busy on other creative projects but still found time to decorate windows at the front of the school with colourful scarecrow artwork.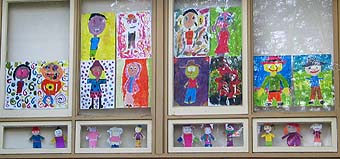 Part of Year 5's window art display
Year 6
Students from Miss Bernacki's Year 6 class created a large display of different scarecrows. Emma, Anna, Rachel and Claudia built a jolly fat Santa Claus who reclined amongst his presents waiting for visitors. Year 6 also built a 'Scary Crows' display with fluttering ghosts and a 'Snow White and the Seven Crows' scene. Topping off the Year 6 display was a cute scarecrow figure wearing a Bandanna, as part of Kurrajong Public School's support for National Bandanna Day and the CanTeen charity.
Congratulations to Kurrajong Public School on their outstanding contribution to the 2006 Kurrajong Scarecrow Festival and on their success in the 2006 scarecrow competition!