The 2006 Kurrajong Scarecrow Festival was held on 27th - 29th October in the Hawkesbury area of NSW, Australia. This was the tenth anniversary of the Kurrajong Scarecrow Festival!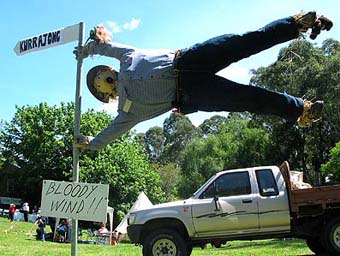 A fabulous exhibit in the Spectacle of Scarecrows at the 2006 Kurrajong Scarecrow Festival
A Grand Parade, led by the Hawkesbury Concert Band through the main street of Kurrajong, launched the main day of the Kurrajong Scarecrow Festival on Sunday 29th October. This was followed by a packed program of musical and dance performances in Memorial Park, along with the Spectacle of Scarecrows, market stalls, displays of antique machinery, a fauna show, children's activities and much more!
Top, The Grand Parade led by a walking 10th Birthday Cake and the Hawkesbury Concert Band; Left: Clowns, Kozi and Pinky, ham it up; Above: One of the many colourful dance performances at the 2006 Kurrajong Scarecrow Festival.
The

Kurrajong-Comleroy Historical Society

presented a wonderful display of historic photographs called 'Fun and Games at the Kurrajong'.

The display featured Kurrajong theatrical performances, sports and amusements of yesteryear.
Brad Walker of Australian Fauna Supplies enthralled the children with a wildlife show featuring snakes, lizards, a cute ringtail possum, a docile kookaburra and a salt water crocodile.

Brad Walker's wildlife show encourages young and old to appreciate and protect Australia's unique animals.
Musicians, Pete and Sue McMahon and Paul Baker, strolled through the crowds singing and playing old time favourite songs.

Pete, Sue and Paul perform beside a colourful scarecrow by Bennett Real Estate.
Scarecrows in a wide range of themes were dotted around the park. Prizes were also announced for many other creative scarecrows that had been displayed by local families and businesses throughout the district during the weekend.

Left: 'Radiocrow', made by the Kurrajong Radio Museum, was a talking scarecrow. He had radio dials for his eyes and nose, and a tall antenna on his hat! Below: Other creative scarecrows on display during the 2006 Kurrajong Scarecrow Festival.
Scarecrows in Motion did not build a display for the 2006 Kurrajong Scarecrow Festival because we felt the existing competition rules made it too difficult to present another elaborate display such as our 2005 Strawy Fire Brigade.

The 10th Anniversary of the Kurrajong Scarecrow Festival was a huge success. May the Kurrajong Scarecrow Festival continue to prosper in the coming years!